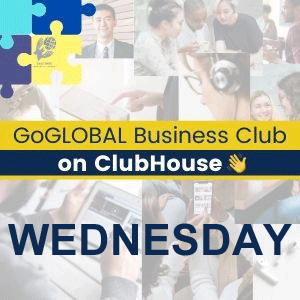 Venue
Live Event on ClubHouse
Event Timezone
Singapore Time
Join us for several interesting events every Wednesday.
There is something of interest for everyone.
---
Making Equanimity in Business Possible
Mastermind for Discussion of challenges and solutions for Business Leaders
Every Wednesday on ClubHouse
1130am SGT - 9am IST - Tuesday USA 11:30pm EST
To join: https://www.joinclubhouse.com/club/goglobal-business-club
Note: At present time, ClubHouse access requires the use of iPad or iPhone devices.
They are working on an Android version, to be available soon.
---
Global Prosperity Teachers Meet-up
Let's meet, learn and grow together
Every Wednesday on ClubHouse
8pm SGT - 530pm IST - 8am EST (USA)
To join: https://www.joinclubhouse.com/club/goglobal-business-club
---
The Middliest,
on bringing in the balance in life
Every Wednesday on ClubHouse
6pm SGT - 330pm IST - 6am EST (USA)
To join: https://www.joinclubhouse.com/club/goglobal-business-club
---
Speed Networking
with Conscious Business Leaders
Come share about your business, meet like minded people and ask who you want to meet
Every Wednesday on ClubHouse
10pm SGT - 730pm IST - 10am EST (USA)
To join: https://www.joinclubhouse.com/club/goglobal-business-club