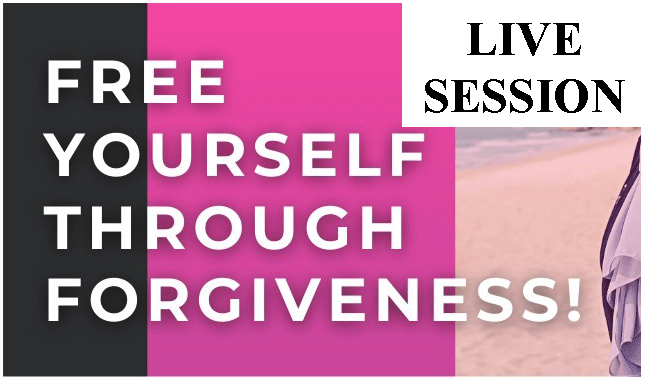 A special edition of the weekly event:
Today is a LIVE SESSION
with Murshidah Said
at 9pm SGT
ABOUT THIS LIVE SESSION
The FREE YOURSELF THROUGH FORGIVENESS online session is a guided visualisation led by Murshidah Said, Multi-Award Winning Coach and Business Owner.
Your rationale minds tell you one thing...like "yes you can do this !".."you are confident!" ..."you can start that business"..." you deserve that relationship"...., but your emotions and all the other fear-based thoughts and beliefs keep coming up.
"What if I fail". "Who do I think I am to ask for so much" "Maybe true success is not available for me", "I need to wait and see first"...PLUS other thoughts and emotions that will always keep you stuck.
These happen because there are still blocks that have not been let go...
Forgiveness is not just letting go of hurtful people. It is also about letting go of painful experiences in the past so that you can transform your future.Forgiveness is the detox to remove the negative emotions that hold you back before you put in the positive programming work.
Having gone through years of personal healing and helping others heal through forgiveness, Murshidah will lead this session where you allow FORGIVENESS to happen so that you can lead your best life and also create positive outcomes in your own personal life, incomes and relationships.
---
---
Join us in the amazing session and start receiving abundance of opportunities like so many other past participants!
What you'll get:
Release from negative emotions & experiences

Attract opportunities

Feel happier & healthier
Note: We are not professional doctors or psychologists. For medical or psychological problems please refer to them.
| | |
| --- | --- |
| | |