Good Beginnings Program - Pregnancy & Welcoming Baby #2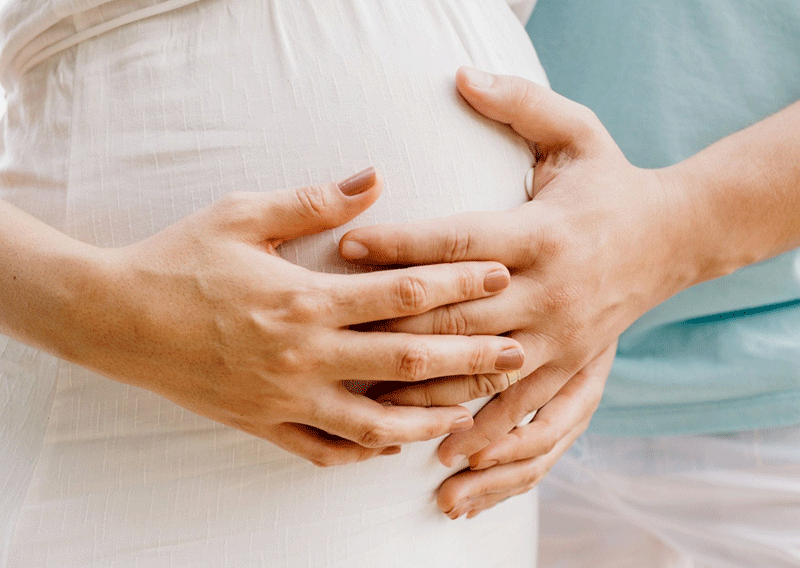 Date
Saturday, 13 November 2021
08:00 PM
Event Timezone
Singapore Time
Pregnancy & Welcoming Baby Program - 5 Days, 7 sessions
Starting Nov 9th with a FREE SESSION
Register now and get another free session (Nov 13th)
Full program (7 sessions) is only SGD20
Good Beginnings - Pregnancy & Welcoming Baby
If you are pregnant, congratulations to you! Pregnancy and childbirth are beautiful times to bond with your baby, reset your health, and prepare you and your partner to welcome your baby in a healthy and gentle way.
Good Beginnings Program is created in an effort to inspire expectant couples like you to keep yourself in a tiptop condition. Prepare you for the journey into parenthood. We bring together experts in different fields and Good Beginnings Angels in these short classes.
Pregnancy & Welcoming Baby Program 5 Days, 7 sessions: special price for all sessions SGD20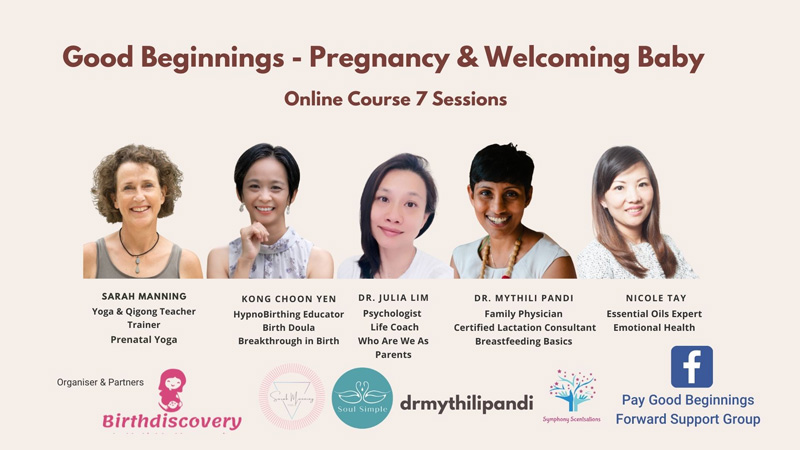 ---
SCHEDULE (all times are SGT time zone):
Session #1: Tuesday, Nov 9th @ 8 pm - Prepare for Parenthood, what are the missing links to a healthy pregnancy, childbirth, and beyond (Free session).
Session #2: Wednesday, Nov 10th @ 12 pm - Prenatal Yoga.
Moving the Body and Developing Strength in your Physical Body in Supporting the Growing Belly.
Sarah Manning, a Senior Yoga Instructor and Qigong Teacher Trainer, co-founder of Optimal Reproductive Health. Sarah has 26 years of experience as a yoga teacher. Since 2010, Sarah has been training yoga teachers for the International Yoga Teachers Association of Australia, facilitating topics that include pre-and post-natal yoga, back care, and yin yoga. The emphasis of all the IYTA training programs is to develop skills of observation and awareness and thus creating an appropriate, tailored, graded, and safe yoga practice..
Session #3: Wednesday, Nov 10th @ 8 pm - Breakthrough in Birth.
Train your mind for a positive birth welcoming your baby without fear and anxiety. Transform stress into a relaxed and calm birth experience for yourself, your partner, and of course your baby.
Kong Choon Yen, founder of Birth Discovery and Pay Good Beginnings Forward Support Group, a Birth Expert, Speaker, Author, and Holistic Practitioner. Yen passionate about transforming stress into a growth mindset. She trained expectant couples for a comfortable, calm and healthy drug-free birth in HypnoBirthing-The Mongan Method childbirth education. She has special interest in healing trauma so that families can enjoy total health. Hence, she started a Pay Good Beginnings Froward Movement..
Session #4: Thursday, Nov 11th @ 8 pm - Who are we as Parents.
Deepen Connection with your partner and your family before birth. As your pregnancy advances, you may notice the need to strengthen the language of communication.
Dr. Julia Lim, the founder of Soul Simple Wellness. Dr. Julia Lim (PhD, Ed; MA, App.Psych) is a Psychologist and Holistic Life Coach specializing in Mind-Body integration. Trained in counselling psychology with a focus on personality testing and construction, family therapy and personal growth, she takes a whole-person approach to wellness - looking not only at the emotional roots of stress and dis-ease and also healing through lifestyle changes.
Session #5: Friday, Nov 12th @ 12 pm - Breastfeeding Basics.
How to get started on breastfeeding.
Dr Mythili Pandi, a dedicated Family Physician, an Lactation Consultant (IBCLC) and a Health Advocate in sunny Singapore. Dr. Mythili has a special interest in Breastfeeding Medicine, Women and Child Health, Chronic Disease Management, Nutritional and Environmental Medicine, and Travel Medicine.
Session #6: Friday, Nov 12th @ 8 pm - Improve Emotional Health with Aromatherapy.
How to improve your mental emotional health by staying calm during pregnancy and childbirth.
Nicole Tay, founder of Symphony Scentsation, an Essential Oils Expert. Nicole is a MOE Registered Trainer. She has trained many mothers life skills using essential oils to improve their health and the health of their children.
Session #7: Saturday, Nov 13th @ 12 pm - Joyful Parenthood - (Free session)
Conversation with Good Beginnings Angels

Join our Pay Good Beginnings Forward Private Support Group for our updates on our monthly sessions: https://www.facebook.com/groups/HPBSS
This email address is being protected from spambots. You need JavaScript enabled to view it.