Inspirethon 2.0, Day 12: Is Business the Perfect Instrument to Build the New World?, with Donna Brown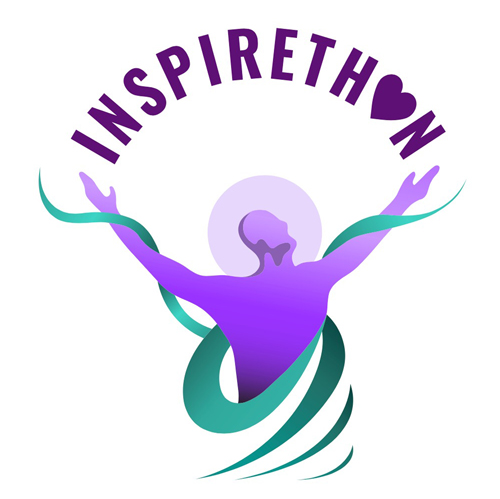 Date
Monday, 03 January 2022
04:00 PM
Event Timezone
Singapore Time
INSPIRETHON 2.0 - Day 11
TIME MASTERY & BEYOND:
Is Business the Perfect Instrument to Build the New World?
with Donna Brown
GoGLOBAL Brand Strategist
Founder, Visionary Business Impact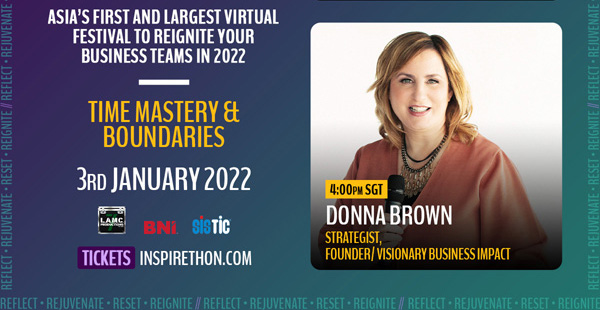 For centuries we have held certain paradigms about business to be true, immutable qualities.
Upon closer examination, we find we are free to create the drivers of our business to be the values and qualities we most want to see in the world.
Donna will take us on a journey that explores value design in business, and how this can lead not only to our own awakening but to the regeneration of the planet and humanity.
---
INSPIRETHON 2.0 is
Asia's First & Largest Virtual Festival to Reignite your Business Teams in 2022.
Featuring Conscious Leaders, speakers, mentors, trainers, coaches from around the world, sharing a piece of their knowledge, while targeting millions of viewers.
December 22nd 2021 to January 11th 2022
Daily sessions: 7:30am SGT and 4pm SGT (with some exceptions)
ALL LEADING TO SPECIAL EVENT ON JANUARY 11th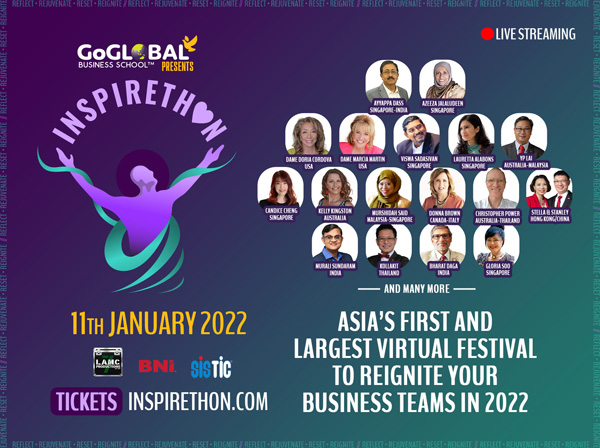 This email address is being protected from spambots. You need JavaScript enabled to view it.