Top 3 Things to do, with YP Lai, Dr. Azeeza & Candice Cheng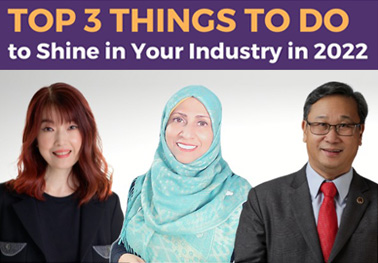 Date
Monday, 03 January 2022
08:00 PM
Venue
Live on Clubhouse, LinkedIn and FB
Event Timezone
Singapore Time
A powerful 3-sessions Masterclass
by world-class Conscious Leaders
to help you making 2022 a great year for you

✳️ For Business Leaders, Prof.Trainers/Coaches and Consultants to learn from what TOP business leaders have done right to grow their market share and?TOP 3 ACTIONS TO TAKE to SHINE in your Industry in 2022
Three parts Masterclass:
✅With Mentors from GoGLOBAL Conscious Leaders Community, with decades of experience pioneering and partnering with businesses leaders expanding in Asia.
✴️Dr.h.c. Azeeza Jalaludeen
Founder & Chief Mentor, GoGLOBAL Business School
✴️Mr YP Lai
BNI Global Master Trainer
Founder, Work Less Earn More Blue Print
✴️Ms Candice Cheng
Founder, The Artz Training
Chief Transformation Officer, GoGLOBAL Business School
LIVE on Clubhouse, LinkedIn and FB Live.
On Clubhouse
GoGLOBAL Business Club
https://www.clubhouse.com/event/xX6JRklD
LinkedIN at
https://www.linkedin.com/in/azeezajalaludeen
Facebook at:
www.facebook.com/yplaiBNI
www.facebook.com/candicechengofficial