Inspirethon 2.0, Day 17: Collaborate or Evaporate, with YP Lai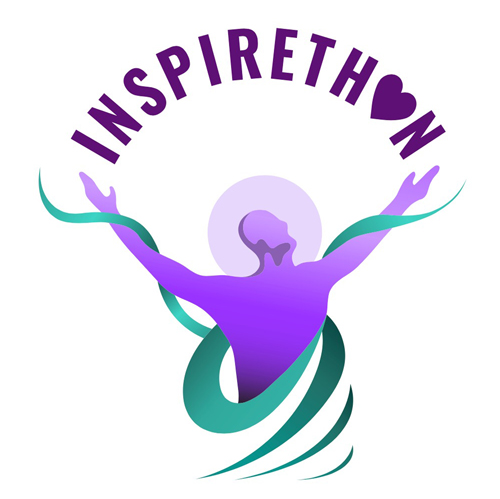 Date
Saturday, 08 January 2022
07:30 AM
Event Timezone
Singapore Time
INSPIRETHON 2.0 - Day 17
BUSINESS GROWTH - SALES & MARKETING:
Collaborate or Evaporate
with YP Lai
National Director of BNI Thailand & BNI Philippines
Founder, The Work Less Earn More Blueprint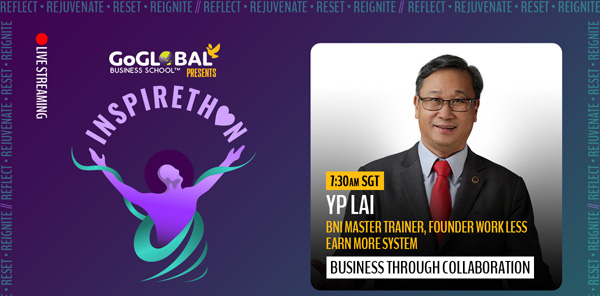 As a Business Leader, have you ever felt tired, stressed-out, or overwhelmed?
Chances are that you are trying to meet the challenges of running a modern business on your own.
Amongst other things, you need product knowledge, sales & marketing skills, be tech savvy on your laptop and mobile phone, familiar with social media strategies (or be left behind like a dinosaur), communication and client engagement expertise, compliance with local laws as well as having your business finance under control.
Wow! That's a lot of things to do!
Let me help you work less and earn more by collaborating with other Business Leaders and implement the proven 7 M.A.S.T.E.R.Y into your life and business.
Why? So, you have time to chase your passion and have more time with your loved ones.
Either you collaborate, or you'll evaporate (from exhaustion)!
--------------------------------------------------------------------
INSPIRETHON 2.0 is
Asia's First & Largest Virtual Festival to Reignite your Business Teams in 2022.
Featuring Conscious Leaders, speakers, mentors, trainers, coaches from around the world, sharing a piece of their knowledge, while targeting millions of viewers.
December 22nd 2021 to January 11th 2022
Daily sessions: 7:30am SGT and 4pm SGT (with some exceptions)
ALL LEADING TO SPECIAL EVENT ON JANUARY 11th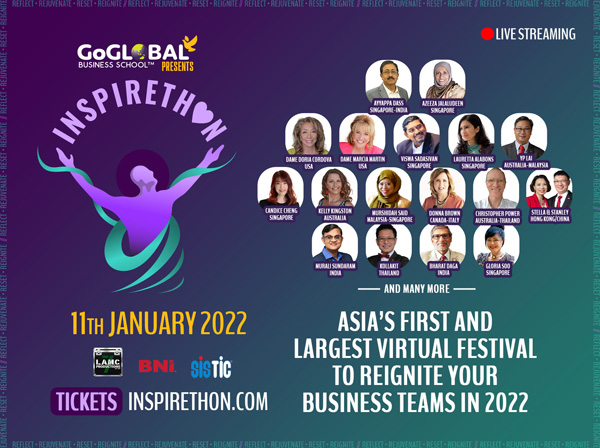 This email address is being protected from spambots. You need JavaScript enabled to view it.