Chai with Global Leaders in Asia: Ms. Meena Srinivasan [free]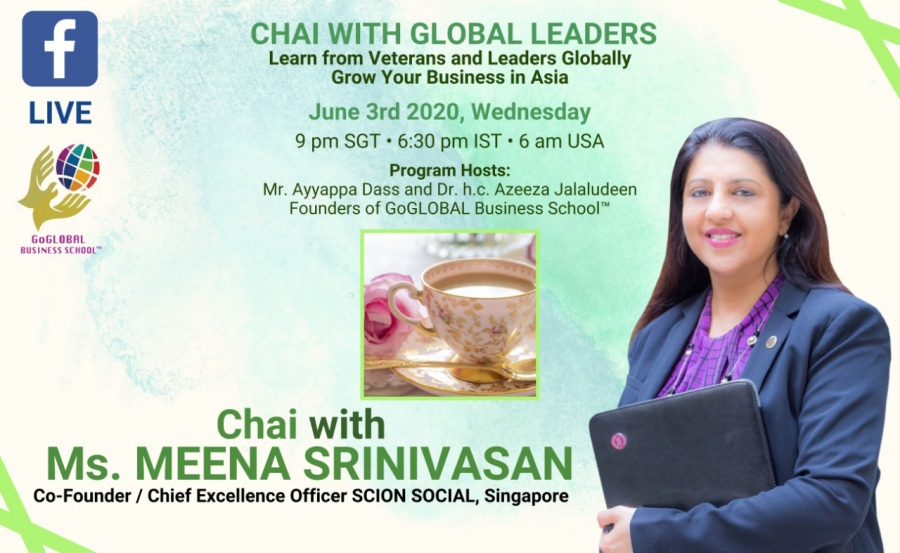 Date
Wednesday, 2nd September 2020
Venue
Recorded live event
FREE WEDNESDAY EVENT
Are you still struggling Going Online with your business?
Can Online business ever be affected by any breakdowns?
What will be the fate of businesses that are not online RIGHT Now/
Let's have chai and chat with the Founder of an award-winning global Social Media Marketing firm.
She has scaled up her business in a short span of 8 years Scion.
Her reputed clients come from all over the world with her offices in India, USA and Singapore.
She is one of the most sought after specialists in the emerging
world of Social media and has participated in several industry forums
across the globe.
PLUS She is one of the leaders in Asia for the world's largest business referral network, BNI , that has global business network of more than 200,000+ members.
Get inspired by the FIRST woman to be interviewed in our Chai with Global Leaders Series, Mrs Meena Srinivasan, tonight for get answers to your burning questions to support your business.
---
Every Monday, Wednesday and Friday are an opportunity for you to learn with some of the best from the Asian Industry!
Join our weekly, learn from global veterans & leaders, and grow your business in Asia!
If already signed-in, click here >>
---