Good Beginnings - Nurturing Conception
GoGLOBAL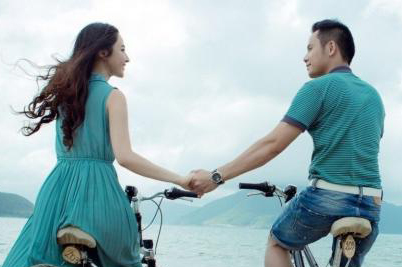 Date:
Saturday, 05 June 2021
Nurturing Conception Program 5 Days, 6 sessions
Starting June 1st with a FREE SESSION
Register now and get another free session (June 5th)
Full program (6 sessions) is only SGD20
Good Beginnings - Nurturing Conception
It's been one year since started Pay Good Beginnings Forward Movement in June. Where Nurturing Conception is one of our hot topics of discussion.
Are you newly married or wanting to conceive? It is joyful of the thought of wanting to be a parent. Let the feeling of joy roll-on in your journey into parenthood.
What should you do to prepare to bear a healthy child? Join us to find out what you can do to achieve Optimal Health before conception. We, a team of Good Beginnings Angels put together a program to help you work on total health, a holistic approach to a natural conception.
Nurturing Conception Program 5 Days, 6 sessions: special price for all sessions SGD20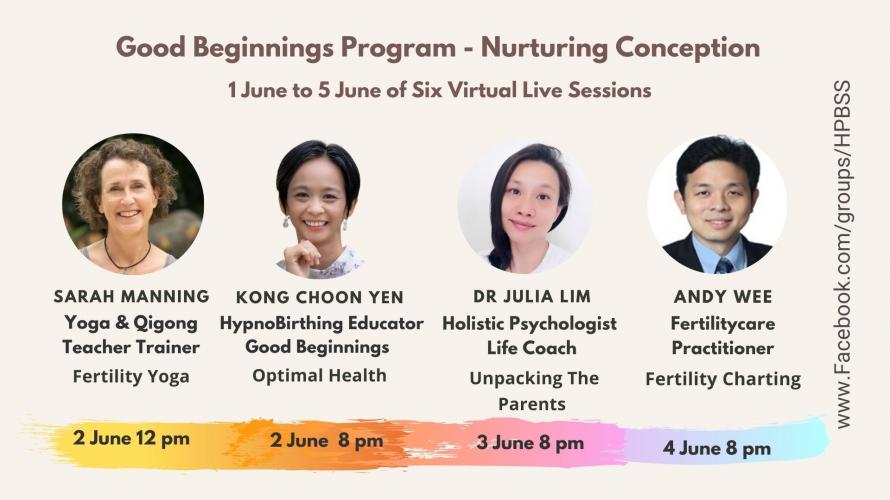 SCHEDULE:
Session #1: 1 June 8 pm - Joy and Challenges on your Fertility Journey (Free admission)
Opening program where we meet Good Beginnings Angels, Kong Choon Yen, Sarah Manning, Dr. Julia Lim and Andy Wee who can help you work on your physical fitness, increase energy, prepare your body before getting pregnant, deepen your connection with your partner and skill set.
Session #2: 2 June 12 pm - Fertility Yoga Class
Sarah Manning, a Senior Yoga Instructor and Qigong Teacher Trainer, co-founder of Optimal Reproductive Health.
A journey into increasing your vitality, flexibility, and mindfulness.
Session #3: 2 June 8 pm - Energetic Flow for Optimal Health
Kong Choon Yen, founder of Birth Discovery and Pay Good Beginnings Forward Support Group, a Birth Expert, Speaker, Author and Holistic Practitioner.
Let go of your physical, mental, and emotional baggage.
Session #4: 3 June 8 pm - That Conversation on Having Baby
Dr. Julia Lim, a Holistic Psychologist, and Life Coach.
Unpacking the expectations and values that constitute the parents on why to have baby
Session #5: 4 June 8 pm - Fertility Charting Class with Andy Wee, Fertility Care Practitioner.
Family planning made easy with this skill set and teamwork.
Session #6: 5 June 12 pm - Getting Ready to Enjoy a Nurturing Conception (Free Admission)
Join our Pay Good Beginnings Forward Private Support Group for our updates on our monthly sessions: https://www.facebook.com/groups/HPBSS

---
This email address is being protected from spambots. You need JavaScript enabled to view it.