Challenge the Challenge (Tamil & English)
GoGLOBAL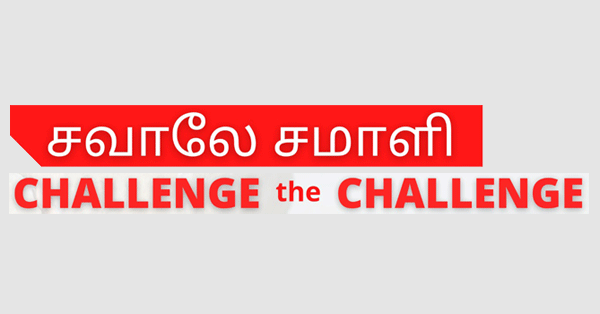 Date:
Wednesday, 28 July 2021
05:30 PM
(Singapore Time)
Your Time:
Venue: Online live event
A Social Project to add-value to Tamil Business Leaders.
Let's connect and grow in your business, learning global business strategies.
Aug 9th to Aug 17th @ 3pm IST - 5:30pm SGT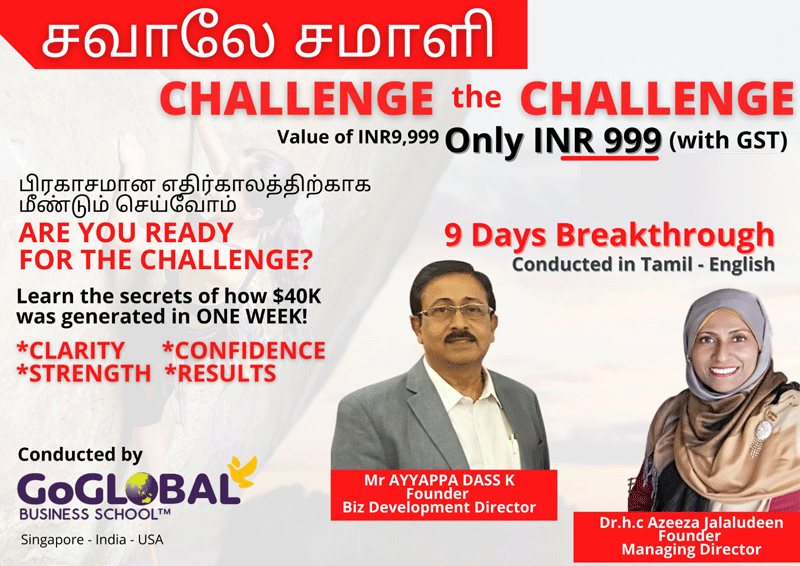 CHALLENGE the CHALLENGE ✴️ சவாலே சமாளி
Our World has faced economic turbulence for the last 15 months. Many businesses have suffered huge.

This is a GoGLOBAL Business School, Singapore Initiative to support Tamil Business Leaders.

DID YOUR BUSINESS WITHSTAND THE CRISIS⁉️
What can you do to make your business pandemic-proof to handle any crisis?
How can you go global growing online?
What are the steps to create your community with clear business plan?

✴️Let's redo for a brighter future!
A PERFECT OPPORTUNITY TO GROW LOCALLY WITH GLOBAL MINDSET

கடந்த 15 மாதங்களாக உலகம் பொருளாதார கொந்தளிப்பை எதிர்கொண்டுள்ளது. அனைத்து வணிகங்களும் பெரும் பாதிப்பை சந்தித்துள்ளன.
வணிகங்கள் ஏன் நெருக்கடியைத் தாங்க முடியவில்லை?
எதிர்காலத்தில் அதை உறுதிப்படுத்த முடியவில்லையா?
பிரகாசமான எதிர்காலத்திற்காக மீண்டும் செய்வோம்

✳️Learn the secrets of how $40K was generated in ONE WEEK!
What are the steps you need to take to prepare your Heart, your Mind and to be in action achieve your results.
---
You will get by end of the 9days:
* 2 year Business Plan
* Online Marketing Funnel
* Access to Global Network
* Stronger Communication

OUTCOME
✅ARE YOU READY FOR THE 9-DAY CHALLENGE?
✅CLARITY in Business Direction
✅CONFIDENCE in Business Execution
✅STRENGTH in Business Deliverables
✅RESULTS in Business as Desired


9-DAY CHALLENGE
-> Over 216 hours of Immersive Learning
-> Conducted in Tamil and English
-> ONLINE ZOOM Live Calls
-> Whatsapp Group Coaching for answering your questions
---
WHEN: Starting 9th Aug 2021 - 17th Aug 2021

TIME: 3-4pm IST - 530pm - 630pm SGT
---
INVESTMENT: Value of Rs9,999 (SGD200) - NOW Rs.999 (SGD20) (including 18% GST) per participant

INCLUDED:
• 30-Page Workbook with Assignments
• WhatsApp Group Coaching for the period of program
• PLUS Monthly Networking Meeting
• PLUS Certificate of Attendance (With 100% attendance )from GoGLOBAL Business School™️ Singapore

Please complete the registration form below, and payment.
Our team will be in touch with you.

Thank you for your commitment in embarking on this Transformational Journey in your Business And Your Life!

Enquiries : Whatsapp to +91 9895055911
---

Faculties of GoGLOBAL Business School™️ Singapore

A Project of GoGLOBAL Business School™️ Singapore. We specialise in supporting business leaders evolve in consciousness, grow in mind and heart, while support their businesses with Organisational Structure, Business Model Innovation and Investment Strategy planning with Investor relationship management.

*In support of Business Leaders in Asia* to move forward with expanded mind and clarity in progressing in current situation, with trust and faith, GoGLOBAL Business School™️ Singapore mentors and their global team have started offering coaches sessions at very affordable fee.

This is inline with our mission in uplifting business community in India/Asia, targeted towards reaching out to 100,000 SMEs by 2021.

More details about our organisation at
www.shinegoglobal.com/goglobal-business-school

Follow us on FB at:
www.facebook.com/GGBS2021
www.facebook.com/WomenOpreneur
www.facebook.com/SMEKonnect
www.facebook.com/TrainOpreneur
www.facebook.com/SHINEGoGLOBALAsia
---
Some Testimonies:
================
The Founders of GoGLOBAL Business School are consummate professionals that knows their field in-depth. They are are a very supportive person – committed to the betterment of humanity, and the empowerment of people.
Business Leader, Sustainability Entrepreneur, Ambassador of New Education, Mentor of Nurturing from USA

Very highly intellectual. Mentors. They are very committed to do things with immediate effect and are highly service orientated. They always consider about others over themselves.
- Business Leader in Wellness Industry for 20years with partnership in China. from Malaysia

It was a beautiful journey that started with CAE programme.The course material are excellent and I enjoyed every minute of it.The knowledge parted was so vast n selfless..With the hands-on assignments, during the 12 weeks, I generated 10x the money I invested. Taking one step at a time to make the foundation of my business strong and structured. I can't thank enough for creating Magic in my life.
- Light worker, 25years in Healing Products/ Services with thousands of global clients, India

**SOME New Habits CAE Participants shared as implementing in their businesses learning from the program**
Thinking Out of the Box,
Being responsible for own decisions.
Being Consistent
Shift in mind-set.
Value your services, don't compromise in pricing
Having well formulated plan with everything
Don't waste time giving explanation
---
Lead Instructors' Profile Brief:
Dr.h.c. Azeeza Jalaludeen
=====================
A born Singaporean Chinese-educated, effectively multilingual in Mandarin, Tamil, Malay and English, has supported businesses in Singapore, Malaysia, India, Indonesia, etc. In the Transformation industry for the more than 18years, she is an Alignment coach, who also learned from Masters in Capital Mechanism in Asia and from the Silicon Valley, since 2013. A Global Connector who has won awards and her honorary doctorate in Global Entrepreneurship Ecosystem- Specialisation in Business Networking.
Mr Ayyappa Dass
==============
A seasoned professional with valuable experience of over 20+ years in the field of Branch Operations, Territory Sales, Marketing, Team Management. His impressive Management skills has supported immensely in the growth of organisations with more than 25,000 members span over more than 6 countries. A serial entrepreneur, he is deft in formulating corporate goals, short and long-term budgets, developing business plans for accomplishment of target and goals of organization, effectively managing hundreds of staff.
---
This email address is being protected from spambots. You need JavaScript enabled to view it.
Event Timezone
Singapore Time