Rich Woman Club: Sharing Your Story Changes Your Story
GoGLOBAL
Date:
Friday, 15 October 2021
-
Friday, 22 October 2021
(Singapore Time)
Your Time:
Venue: Live on Clubhouse
24/7 Peace Makers event
Sharing Your Story Changes Your Story
Starts on October 15th at 10pm SGT - 10am EST, until October 22nd
on Clubhouse: RICH WOMAN MAGAZINE
https://www.clubhouse.com/event/P0Bl5d4n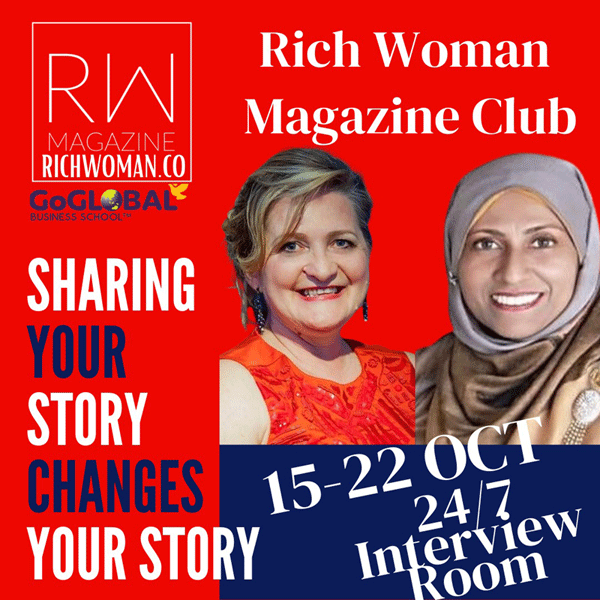 In preparation for the Peace Makers Summit 27/28 October 2021 we are hosting interviews for a whole week.
Every interview is followed by a Q & A Session, join us on the stage
with Dr. Marina Nani, Grace A. Kelly, Dr.h.c. Azeeza Jalaludeen,
Prof. Michelle Walker Davis, Kulwinder Samra, Melissa Pascal,
Reita Faramay, Sujata Tiwari, Dr. Renee Allison, Angela Seabourne MSW RSW,
Murshidah Said, Attorney Beryl McClary.
on Clubhouse: RICH WOMAN MAGAZINE
https://www.clubhouse.com/event/P0Bl5d4n
Event Timezone
Singapore Time