The Journey to the SyncFlow Zone, with Mr. Rendy Tan Ravi
GoGLOBAL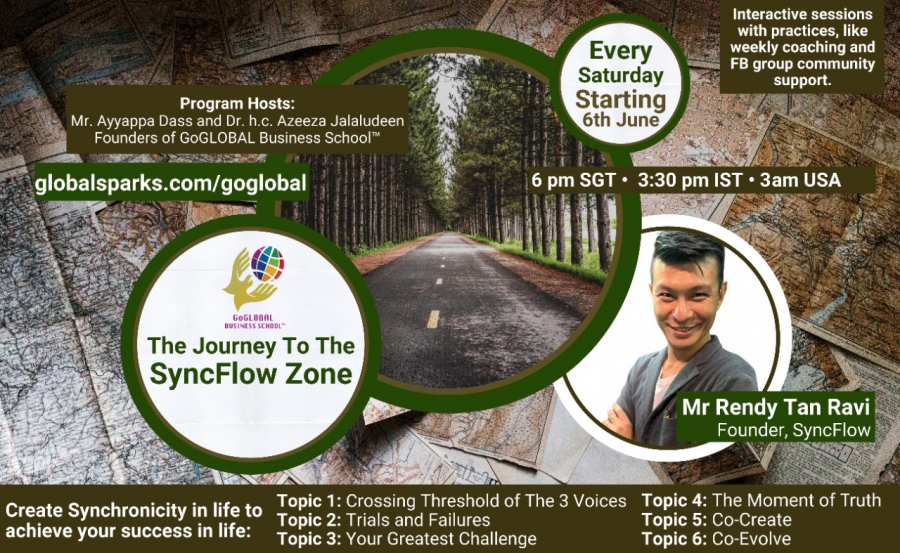 Date:
Saturday, 28 November 2020
Venue: Online training

JOIN US ON SATURDAYS
---
What could have been?
What could have been?
What could have been if I followed my heart?
Have you experienced regrets in your life?
I have! Many! Want to know what keeps me going?
People with big dreams are the least understood. I long to create a safe and supported environment that for people like you and me so that we do not merely survive our challenges, we excel in breaking through and lifting the tides together.
After serving individuals, organisations of different scales, building, managing and participating in communities of different categories, I started to notice alarming patterns of the divides between our perceived self and true self, the self-interest society driven by fear and scarcity vs abundance and prosperity for all, and the ecology of mother Earth is on the brink of destruction. With these fragmentations in the system, the natural balance of our well-being, society and Earth is severely compromised.
There is a prevailing gap between the desires the fragmented system in society had instilled upon us and what it means to have a truly fulfilling life, creating Peace, Abundance, Prosperity, Love and Joy for all.
The conditioning of the fragmented system in society had crippled us. Many of us struggled alone in silence, trying to make sense of it all, with the back of our minds and in our hearts knowing that we are meant for something more. I discovered that it doesn't matter what kind of strategies or tactics people tried both on the outside or the inside (either personally or professionally), the breakthrough wouldn't happen unless we see beyond the smokescreen, hear and act on what the unified fundamentals are trying to tell us.
"If you take any activity, any art, any discipline, any skill take it and push it as far as you can go, push it beyond and where it has ever been before, push it to the wildest edges of edges, then you force it into the realm of magic." – Tom Robbins (B. 1936) Writer
That's why I developed the SyncFlow practice and the SyncFlow Zone checklist so that anyone who desires Peace, Abundance, Prosperity, Love and Joy for all could come together collectively to create the brightness of the future for many generations to come.
In this series, we take you on a bountiful journey to the SyncFlow Zone with companions who are ready to rediscover themselves to co-creates and co-evolves with you. You will see the paths I have taken on this journey to create your own.
My mission to reach the world population of 8.5 Billion in 2050 with SyncFlow Zone.
SyncFlow goes beyond the self, we have an ambitious mission and vision, 100,000 SyncFlow Gurus working towards bringing balance to the ecology and sustainability of our next generation.
---

JOIN US ON SATURDAYS