Tamizh WomenOpreneur Online Series

Date
Thursday, 17th September 2020
90-minute episodes • India @ 2:30pm • Malaysia/Singapore @ 5pm
Tuesdays and Thursdays in September (1st to 17th)
• தமிழ் - WomenOpreneur Online Series •

A Business And Life Transformation Journey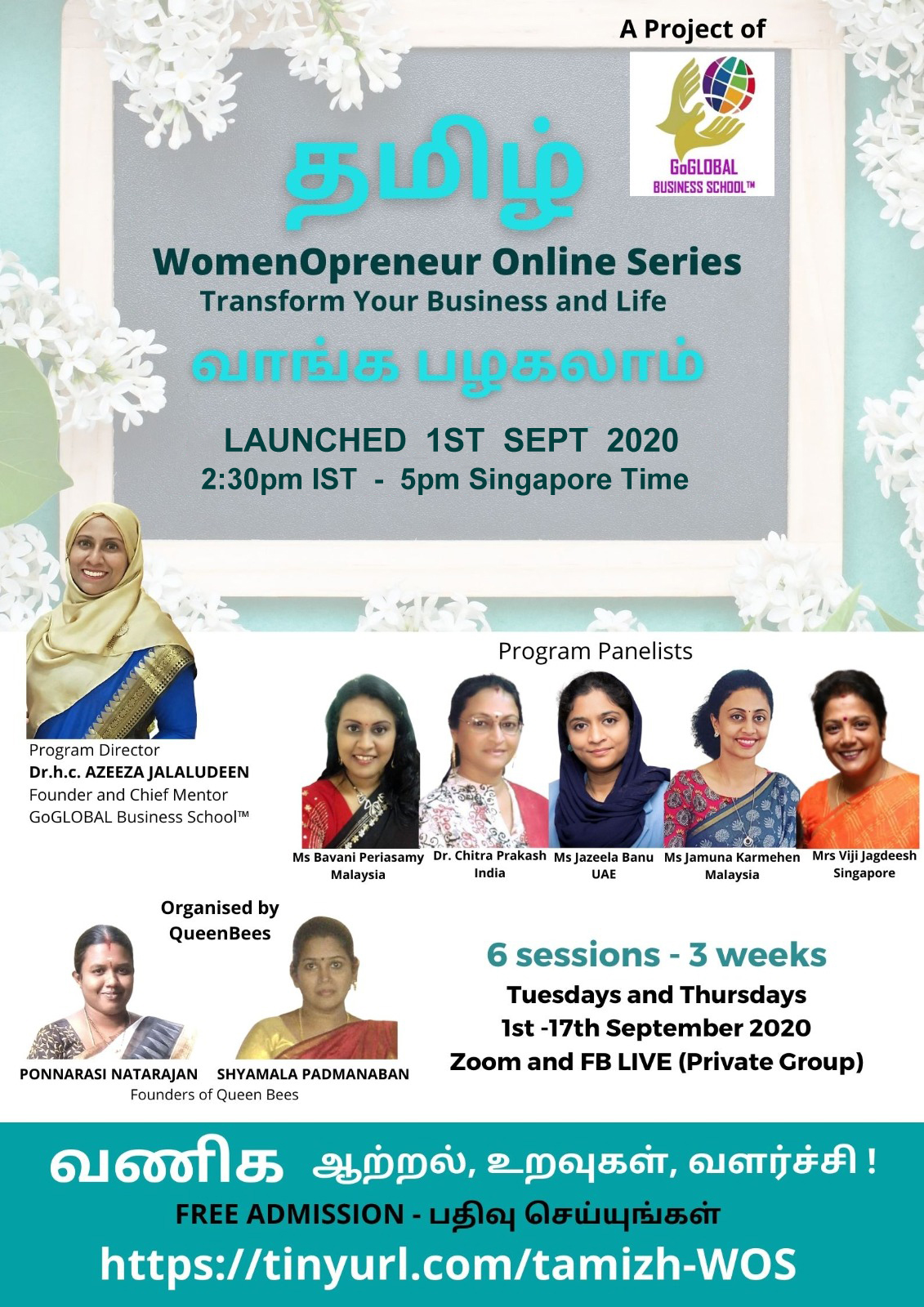 THE OFFICIAL LAUNCH WAS 1st September. Register (free) and get access to all recordings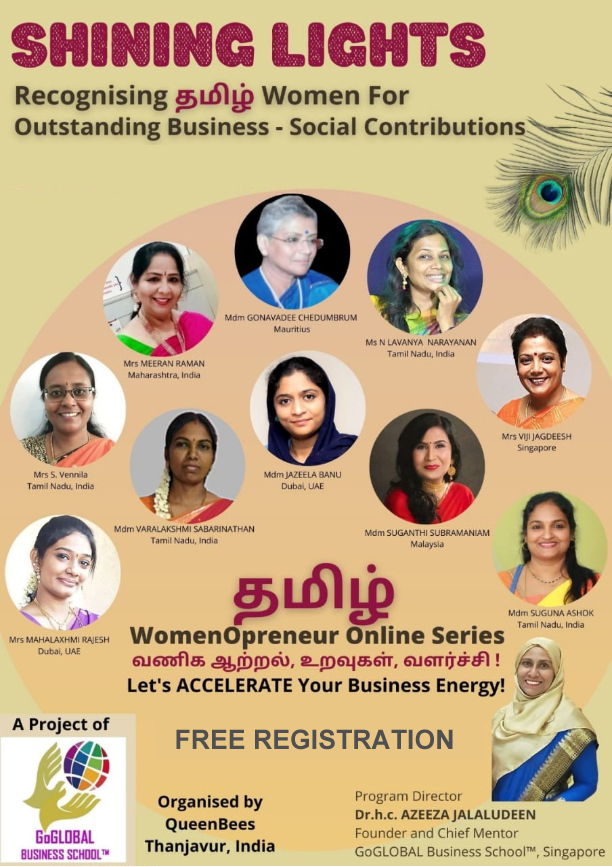 REGISTER NOW to access all free events, to watch the recordings,
and also get access to our FB Private Group for WomenOpreneur Online - Global Community.
Women in Business - Growing together as Global Business Community.
வியாபாரத்தில் பெண்கள்
ஒன்றாக வளர சேர்ந்து வருவோம்
Mark your calendar for all six events:
Tuesday

Thursday

Tuesday

Thursday

Tuesday

Thursday

Sept 1st

Sept 3rd

Sept 8th

Sept 10th

Sept 15th

Sept 17th

2:30 to 4pm IST • 5 to 6:30pm

SGT

• 2 to 3:30am USA PT
FIRST OF ITS KIND IN TAMIZH FOR WOMEN - 6 interactive and engaging sessions with 10 awesome inspirational Tamizh women, sharing their Business and leadership skills important for you to evolve and for your business and life transformation.
What you receive
* Empowering Women fundamentals to socially conscious global entrepreneurship
* Sharing Business Know-hows, support network and growth strategies to excel in life
* Follow up with FB Close Group connecting with women in Tamil Nadu, Asia - World, for Business growth.
100% FREE - Not a Selling Event
All Speakers are Women Leaders - Business Owners focused on community development
PLUS
Get FREE Access to our Global Sparks online learning portals with hundreds of free programs and updates on our GoGLOBAL Transformation Programs.
---
Session 1 (Sep 1st)
Launch of WomenOpreneur
Vision / Mission and Objectives of the series

Session 2 (Sep 3rd)
Redefining Entrepreneurship for Women
- What it takes to do business in this century?

Session 3 (Sep 8th)
Conscious Business Ethics and Growth Skills
- What do you need to know for gaining clarity?

Session 4 (Sep 10th)
Creating Your Tribe - Your Business Community
- How to inspire and enrol people into your mission

Session 5 (Sep 15th)
Going Global Going Online
- How do you reach out to the world online

Session 6 (Sep 17th)
Are You Ready for the Transformational Journey
- Declaring and Fulfilling Your Commitment
- Creating Your Accountability Team
---
CONDUCTED IN TAMIZH
தமிழில் நடத்தப்படுகிறது
By Dr. h.c Azeeza Jalaludeen
Founder & Chief Mentor, GoGLOBAL Business School, Singapore
Chief Advisor: Sri. Ayyappa Dass K
Founder & Director, GoGLOBAL Business School, Singapore
A Project of GoGLOBAL Business School™️, Singapore
Organised by QueenBees, Thanjavur, India
IF ALREADY LOGGED IN, access here >>