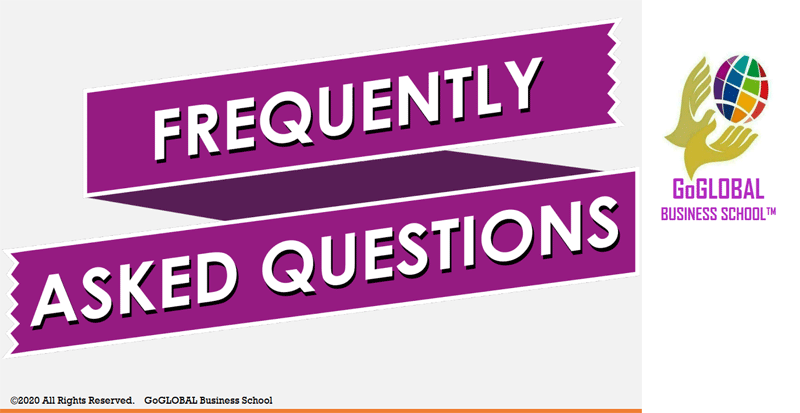 What is the TrainOpreneur™ Program (TP)?
It is a license to be part of a Business Development Program for Trainers, Coaches, Mentors and Industry Leaders to engage in business growth – online and offline. A project of GoGLOBAL Business School, whose Founders are pioneers in the transformation - People Development industry since 2002. It is working in partnership, owned by a non-profit charity foundation in USA, - GlobalSparks.com. This portal is worth SGD7.5mil, they have given GoGLOBAL Business the license for Asia – Africa.
Our Mission is in Uplifting Trainers/Coaches/Mentors/Industry Leaders, in Asia, growing together as ONE Community.
PreLaunch Interview done on FB Live - Check out https://www.facebook.com/shinegoglobalasia/videos/952762781746557/
Dr.Serge Gravelle, Founder of GlobalSparks.com , USA, with Dr.h.c. Azeeza Jalaludeen, Founder of Our SHINE GoGLOBAL Ltd, Singapore.
Who qualifies to be a TrainOpreneur™?
These are preferred but not limited to:
Trainer/ coach / consultant / mentor / Industry Expert in business for more than 3-5 years

Have your own program – online / offline courses

Have been through some trainer qualifications or its equivalent hands-on experience

Willing to relook at your branding to restructure for GLOBAL appeal

Willing to unlearn and relearn, and accept guidance for business development

Willing to be visible online and offline – Pro - Social Media

Have a strong vision and be mission driven

Have your own business and / or willing to set up one.
Is this a certification or TTT Program?
No. We are a business development platform for professionals with experience. We trust you to have all the skills for transforming lives, if so, we seriously want to partner you - equipping you with and supporting your business development journey – reaching out to wider global audience. What kind of Mentor are you? https://youtu.be/0isq1djcBQI
Do I have to go through any training programs to be part of TP?
No. Most ideally you should have been in practice for more than 3 years, have enough content and expertise of your own, that can be show cased in global space. If you need to create contents online and if you have never done so, we have options for you to learn and grow your knowledge on this. We also have programs to train you for speaking on video. Therefore, we do have programs for you to tap on to enhance your training and business qualities.
Testimony of our work - Impact of our sessions for Trainers: https://www.youtube.com/watch?v=KEUT7xpAEQw
Why must I pay for a license fee for it?
To show your commitment to grow your business with us. This is a license fee, so we can provide business opportunity through the platform.
This fee does not include any marketing cost for you, that will be incurred by us, for your growth. We will be reaching out for you.
The fee will also ensure your active cooperation to work together to earn back this money in multiple folds.

What is my Roadmap in this TrainOpreneur™ Program?
Steps to Follow:

Estimated time frame: 2-3 months to complete the above process and start work. This flow of events depends on many factors, including availability and readiness of the TrainOpreneurs™. Complete program flow will be shared once you sign up.

How are you promoting me?
You will be marketed Online and Offline. It is a collective marketing effort, but it starts with you. We have built a global network of business contacts across Asia, Africa and globally. These include various chambers and associations.
Our Network has been growing with access to many business associations, chambers, government bodies and global network business leaders – professionals. It spreads over Singapore, Malaysia, Indonesia, India, China, Thailand, Vietnam, USA, Australia, UK, etc.
However, the reality is that trainers and TrainOpreneurs should not rely on the marketing & promotion done on the platform itself. At the end of the day, each one is responsible for his/her own success.
As added-value, and Affiliate Marketing program is offered to users to promote TrainOpreneurs™
What is the success story of GoGLOBAL Business School?
Though we are newly launched as a company. Our Founders have been immensely impacting professionals in the industry - since 2002. We have many success stories that we have and usually share online and in our events.
There are many testimonies online and offline. Also from Trainers/Coaches and also from Business Leaders on your next level of growth through our programs. Here are a few:
Do you guarantee business for me?
No business guarantees business. All revenue generating is dependent on many factors and varies according to your ability to deliver. That being said, we are on a roadmap for listing our company, this means, we have clear sales /profit target to meet, that needs being fulfilled . Therefore, your success – the financial number we projected for you, is very important for us to help you achieve.
Where do you get money to market me?
We are a traditional business, with immense network and contacts in Asia – Global, built over last two decades. So our programs are marketed through our Online & Offline connections.
Capital Mechanism – Funding mechanics are structured for us to go for IPO, so we are receiving funds to pay for our marketing
Is this MLM?
No, We don't promote any MLM projects in our platform. This is very clear in all our MOUs.
Is this an Online Trainer Directory?
No, we do not want you to be "up for sale"
I don't have online products, how will GGBS help?
We will give you complimentary session and mentoring required to learn on creating your own online products/services.
You will have to prepare At least ONE SGD20 value, ONE Webinar/coaching service, And ONE offline program/consulting session.
What kind of topics are preferred?
We are reaching out to SMEs and Entrepreneurs – so any topic catering to these, both for start-ups, youth and established business leaders are welcome. All verticals of business growth – academic or personal development or skills development are required.
What is Capital Mechanism? -as I feel it's something unheard of
Capital Mechanism is growing business beyond just the normal day to day business activities, otherwise known as Market Mechanism.
It is using capital - funds from investors, where equity stakes are given to shareholders, creating a bankable business, increasing valuation of the company in multiple folds. This is one very important element of doing business that our licensees will learn on getting associated with us.
Will I have to renew the license to be able to work with your contacts in future? Can I renew?
Yes, the license needs to be renewed. Subject to your performance and our mutual satisfaction of progress, it can be renewed.
Renewal fee of SGD5000 per year. Its most ideal and we target - expect that the renewal does not require you to make more payment, as the funds generated in the next 2 years, should be more than sufficient to cover the amount.
Is there any minimum number of hours we have to put in together to be able to achieve the figures discussed?
No. We are task/result oriented. We are interested in the outcome. As long as the timeline to deliver the outcome – timelines are kept, we will not be clocking in your time. Typically, this will be within the first 2-3 months to complete the necessary process to get your online programs/products up.
How will I be paid?
All payments are received and tracked online, and transferred to your preferred online receiving account – Paypal for all.
Bank account details preferred for licensees from India. Payments will be made bi-weekly or monthly.