The ARK, with Hamid Rashid, Dr. Azeeza Jalaludeen, Ayyappa Dass [free]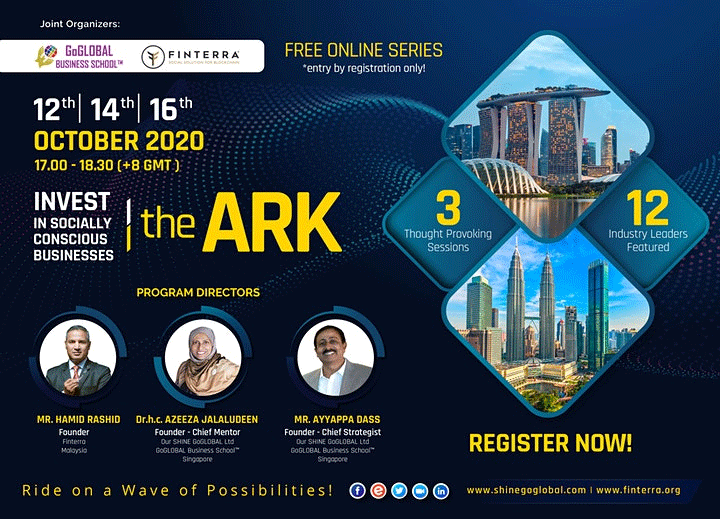 Date
Tuesday, 17th November 2020
Venue
Recorded Online Event
THE ARK:
"Invest In Socially Conscious Businesses"
A special 3-episode Series
Originally held in October 2020
WATCH RECORDINGS NOW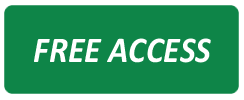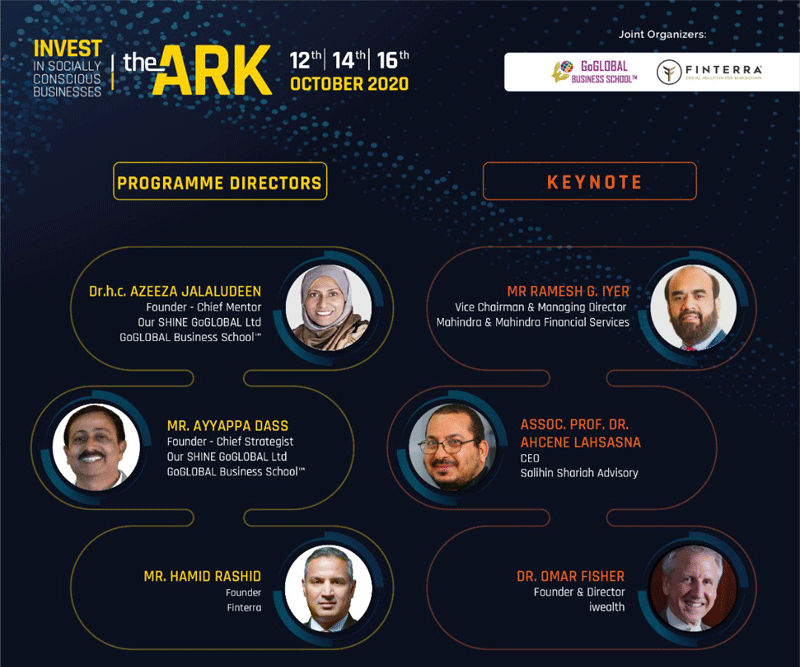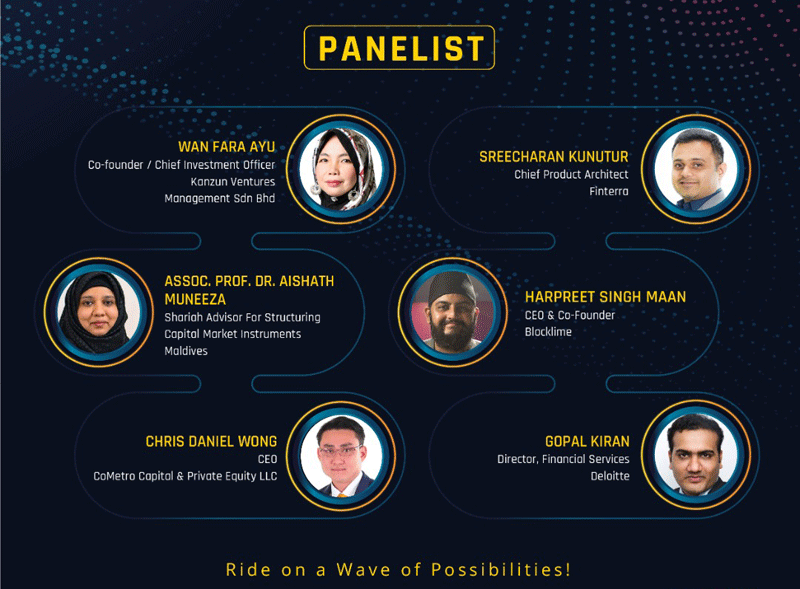 About this Event
Get Answers to all your questions on investing and structuring your projects/businesses for investment in today's economy!
The ARK is an unique online series, is jointly being organized by GoGLOBAL Business School™️ in collaboration with Finterra. The 3 online sessions of the ARK Series will shed light on all aspects of creating an investible business and Investing into socially conscious businesses which offer great returns.
Each session will be a 1.5 hour panel discussion comprising of industry leaders from the Regulatory, Islamic Finance, Fintech and Business acceleration spaces. They will share their expertise and success stories as both individuals and corporates, that have successfully invested and benefited in socially conscious and sustainable business. Other areas of discussion will include the future trends in Investment, changes in investment behaviors and especially in the Fintech and Islamic Fintech spaces that is set to fuel the future of business in the world.
We welcome Investors wanting to invest in sustainable and conscious - responsible businesses to join this session. It is Free of Charge and will entitled you to all three sessions. Registration is needed. The first series was launched on 12th October 2020 followed by the second on the 14th of October and the last being on the 16th of October 2020.
Get ready to ride the wave of Possibilities in The ARK!
The topics are as below:
Session 1: ARE YOU PREPARED FOR INVESTMENT?
Special Keynote address by
Mr Ramesh Iyer, VC of Mahindra Group, MD of Mahindra Finance.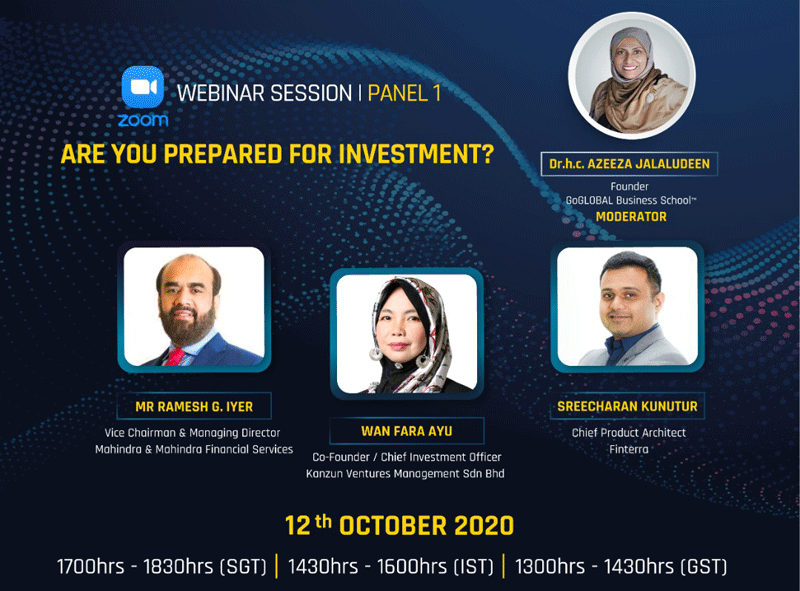 In this opening session of The ARK, the panel bring to light
* Psychology of Investment in socially conscious business
* Mindset and heart set of Investors and Business owners seeking investment
* Myths about making money as a Socially Conscious business
* How big can one grow through socially conscious businesses?
* Fintech: The next step in financial evolution
* How blockchain is revolutionizing the banking and Financial sector

The trend of the world to seek funding for socially conscious businesses/projects, is beyond the traditional social enterprise and CSR projects. Get new perspectives to investing in socially conscious projects/businesses and technology's role today! Learn the various ideas/tips to prepare your projects for investment, plus what to look out to ensure good returns when you are investing.
---
Session 2: CAN ISLAMIC FINANCE FUND THE FUTURE?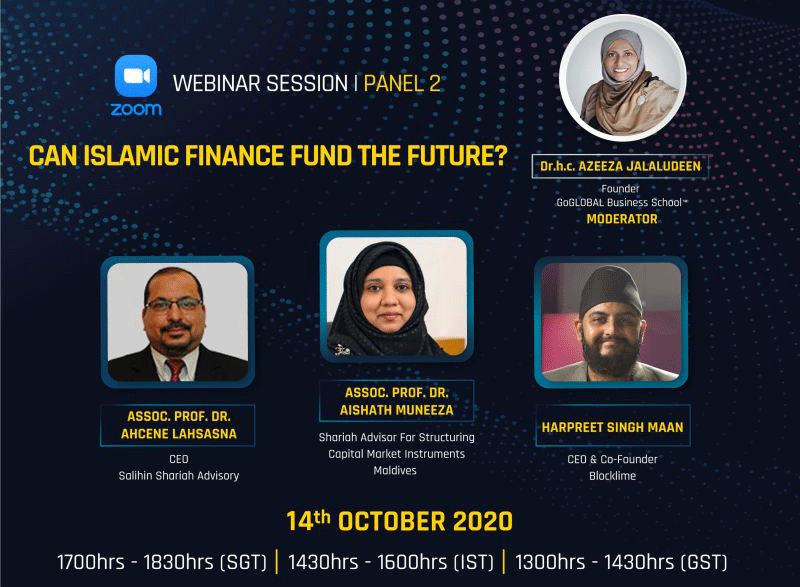 In this second session of The ARK, open your mind to
* Understanding Islamic Finance – focused on development through ethics
* Evolving away from conventional finance - the role of Islamic Finance
* Secure investment through Gold & Silver
* Islamic banks - how are they different?
* Islamic fintech in Asia: Reaching new heights
* Fear of Cryptocurrencies and how it can be solved

This session will be able to get investors and businesses to learn the various fundamentals to Islamic Finance, its unique conscious model and the various funding options available. It will give deeper clarity for businesses seeking funding to structure their projects and for investors looking for good returns doing good.
---
Session 3: ARE YOU READY TO INVEST NOW?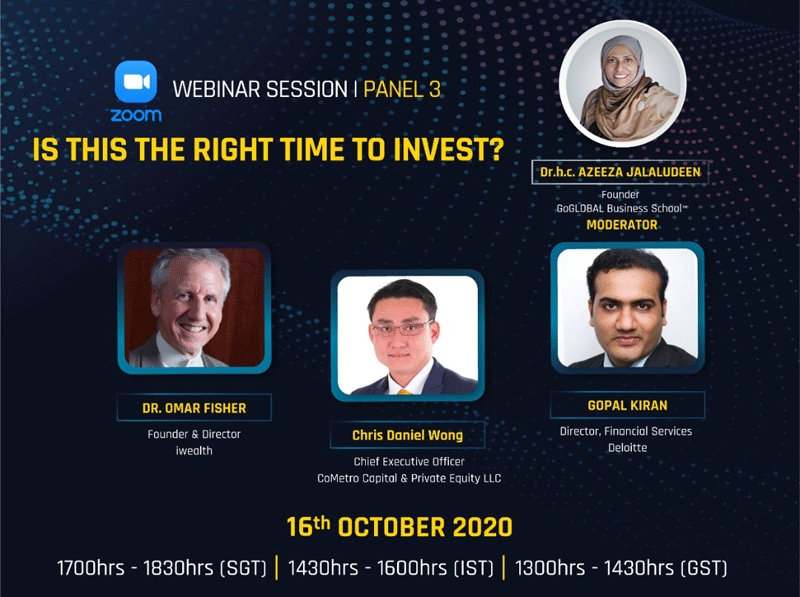 This Final session of The ARK, achieve clarity in
* Structuring projects for Investment
* Is this right time for investments – ROI in projects
* Merging human values with socially conscious business
* Fintech: Moving past "satisfactory", to "excellence"
* Customers: The heart of fintech innovations
* Putting the "Trust" back in Investment – Power of Blockchain

Is there money in the market? Let's get to some realistic current scenario analysis with real time sharing of case studies. Where can you look for funding and investors, collaborators/partners, and where to find lucrative low risk investments, with good returns, and how to create meaningful projects with attractive returns for investors to benefit together with the project owner.
---
About the Organisers
Finterra is a leading technology-based company providing blockchain-based Islamic applications that address global issues. Established in 2017, Finterra presently has offices in Malaysia, Singapore, Hong Kong, India, and UAE with plans to further expand into Africa and the Middle East. Globally, Finterra promotes community growth and advocates for the mass adoption of the ground-breaking blockchain technology, serving as a "Social Solution for Blockchain".
As a leading player in the Islamic FinTech space, Finterra's flagship product the Waqf Chain, has been developed to revitalize the Islamic Social Economic system particularly Waqf, for the digital age, using blockchain technology. With relevant regulatory compliance built into its products and services, the ISF Suite solves core challenges, not only in the management of Sadaqah, Zakat but also in Waqf.
With the aim of unlocking the true value of endowed assets, the platform integrates options for Campaign management, Capital raise, Waqf management, Asset management and impact Reporting for the benefit of both, the stake holders and the Society at large.
GoGLOBAL Business School™️ is a wholly owned subsidiary of SHINE GoGLOBAL, first of its kind GoGLOBAL Accelerator from Singapore, with more than 2 decades of experience in business structuring and strategising, business model innovation and transformation work with business owners/SMEs.
As a Limited Company founded by Dr. Azeeza and Mr Ayyappa Dass in Singapore, they have been successfully working in acceleration of SMEs and Listed companies in Asia & Africa regions to GoGLOBAL, supporting them with organisational structuring, capital mechanism trainings, business connections, growth plan & funding strategies / connections, in creating a bankable/investible company.
Their network of shareholders, partners, associates and clients spreads over Singapore, Malaysia, India, Indonesia, USA, Mauritius, Middle East, UK, Australia, China, etc. in various industries, including hospitality, education, technology, lifestyle, etc.
Together with a network Global mentors/Business Leaders in their GoGLOBAL Business School™️, they have been empowering through transformational online and offline programs impacting thousands of business leaders in Asia - Africa and Globally.
Their mission is committed in uplifting and nurturing a community of conscious business leaders in Asia, they focus in imparting the wisdom of Conscious Capitalism, as a key to prosperous living for business owners, creating their Generational Wealth System.